Check out the Region Sports Network's Pleasant View Peak Performers for Week #4
Pleasant View Dairy Peak Performers -Week Four
(Offense)

Russell Chick – Crown Points senior workhorse bruised his way to a hard earned 114 yards on 34 carries with one touchdown, as Crown Point came a way with a closer than it sounds 24-13 victory at Lake Central.

Tony Hollingsworth/Danny Koblack – This senior duo led the way for Bishop Noll in their win against Lake Station. Hollingsworth got it done in the ground, rushing for 170 yards and two TDs, while Koblack aided the Warriors aerial Koblack with five catches for 92yds and three scores.

Derek Hitt – This calm and cool quarterback made all the plays when he had to, doing it through the air and on the ground. Hitt passed for 119 yards and added another 55 on the ground while accounting for three scores and th game winning two point conversion as Griffith beat the RSN #1 Lowell Red Devils in overtime.

David Moore – With his all around effort against Roosevelt, Hammond Highs Mr. Everything proved he could do just about everything. One of the top backs in the Region this year, Moore paced the Wildcats offense with 126 yards on the ground and three scores. The senior speedster added an interception return for a touchdown on Friday as well.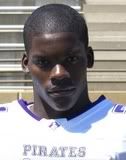 Roosevelt Williams – The speedy Merrillville running back sparked his teams come from behind victory against Portage with an impressive 89 yard touchdown run right up the gut of the Indians defense. Williams finished the night with 182yds on 22 carries and two touchdowns.
(Defense)

Jake Gould – This senior linebacker led the Pioneers with 12 tackles, as the Clark defense shut down Longwood Academy, limiting them to just 69 total yards the entire game.
Hammond Defense – This fast and physical group was all over the field Friday night, holding a good Roosevelt offense to just six points in the first half. The defense also did some scoring of its own, recording two safeties and three interceptions, one of which was returned for six points.

Colin Schreiber – The Bishop Noll senior defensive back led an impressive defense with five tackles and a forced fumble. As a unit, the Warriors defense didn't allow a Lake Station first down until the fourth quarter.